When starting your newsletter from scratch, the big question is: Which free newsletter template should you use to catch the eye of the crowd? 
Whether it is in the form of a daily digest, a weekly wrap-up, or a monthly update, a newsletter is a great way to reach others. With more and more people in their inbox, it's easy to share valuable information, create useful content, and connect with like-minded people. 
3 Things to Look for In Newsletter Templates
There are various factors when selecting the perfect newsletter template. Here are a few technical aspects that you should keep in mind:
Keep your HTML clean and consider using a WYSIWYG builder
Remember to consider responsiveness
Dark mode is becoming more popular
1. Clean HTML and WYSIWYG Builders
HTML is the code that is behind any email you send. It controls things like color, font and layout. Check out this graphic to understand exactly why clean HTML is so important: 
As you can see, turning code into a visual email is a complicated process! That's why, unless you understand how to code responsive emails in HTML, we recommend you stick with a What You See Is What You Get (WYSIWYG) builder.  
With the help of a visual builder, you can see how your newsletter appears across multiple devices. You can use various settings and styles to create message layout, add content, and then format and structure everything the way you want. 
The good news is, most ESP (email service providers like Mailchimp for example), have both HTML and WYSIWYG included as features!
2. Responsiveness on Different Devices
Another thing that makes a newsletter template high quality, is its responsiveness. A responsive newsletter template is the one that looks and functions perfectly across any device. Whether the newsletter is opened on a tablet, smartphone, or a computer, a responsive newsletter template will automatically adapt to the screen size.
You can test responsiveness across devices by using a tool like Email on Acid. 
3. Dark Mode is Popular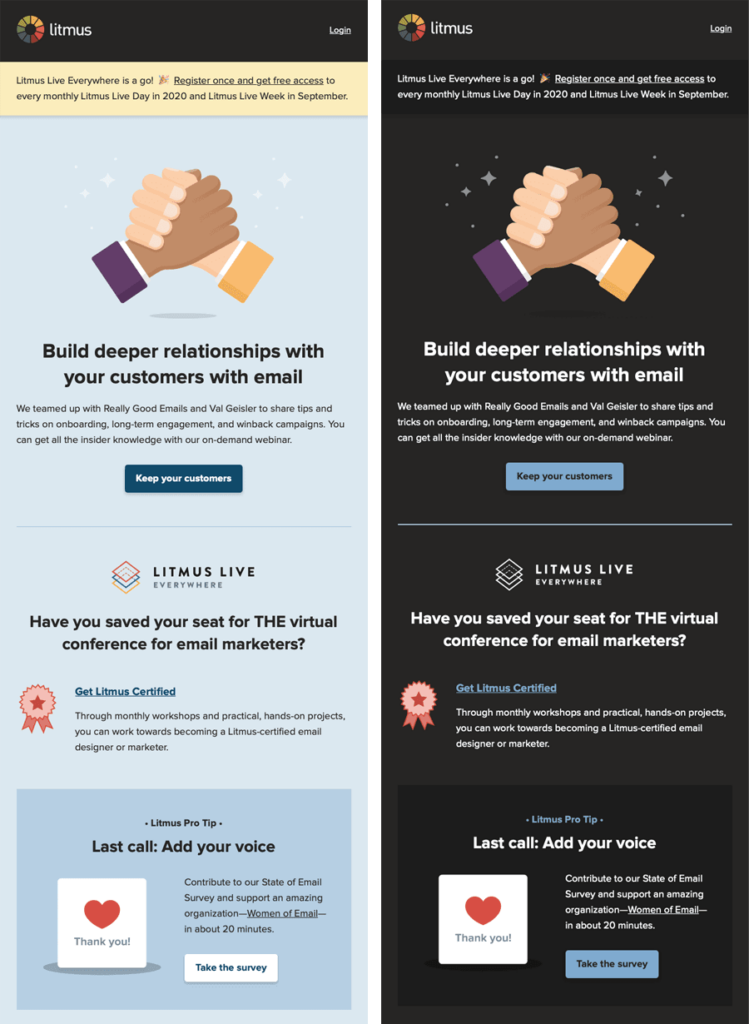 While Dark Mode used to be a feature used only by a few outliers, it's growing in popularity. From text messages to social media feeds, you can see dark mode popping up as an easily accessible option everywhere. Not only is it easier on the eyes, but it saves battery life of devices as well. 
While designing a newsletter, and more specifically, selecting a free newsletter template, you should be mindful of this dark mode trend. To learn more, here is some more detailed information on Dark Mode. 
Where can you find lots of free email newsletter templates? 
Each of the templates below has plenty of free email templates to suit your personal taste! You can download free templates from sites like: 
This beautifully designed template was built to celebrate Black History Month. 
It is a nice and clean template with a clean design. This free template can be used to create a newsletter that links out to other pieces of content. It allows plenty of space for quotes and ensures concise writing. 
This dynamic template is both robust and easily editable. It's made in a WYSIWYG builder created by Stripo – an excellent place to start for beginners. The layout is simple with rounded edges and detailed yet balanced elements.
Sonata is an aesthetic free newsletter template that embraces a clean design with lots of space for text that goes in-depth. It has separate image slots that capture the essence and soul of your brand. It includes prominent CTAs which you can use to drive your readers to other content. 
This free email template is designed to be scannable and quick to read. Following a familiar top ten format. A fantastic template to start with if you're curating content, product recommendations, or top travel destinations
A customizable template that's simple and sweet. Plenty of white space, and a good balance of elements makes this template perfect if you just want to get started without fussing about images too much. 
Since it has been tested with Litmus and Email on Acid, you can rest assured that this template is as robust as they come!
This template offered on Behance caters to new products and services. It would be an excellent choice if you are 'rounding up' a list of the top products in a category.
visually, vibrant product copy text and the dark background offer a nice contrast.and the contrast adds a sense of quality and intensity to the marketing campaign. With different customizable sections, you can include plenty of witty content.
Need something elegant, simple and striking for your most intense thoughts and musings? This template has you covered! It comes in both a light and dark version making it a versatile option.
If you want to share articles and your thoughts on them, this is the template you'll want to start with. The format is simple; image, text, link, and repeat! A great option for news-focused topics. 
This template by Venngage is a fluid layout that you can completely tailor. It's bold, organized, and loud. If it's nuevo edginess that you want, this template has it in bucketloads! 
While the yellow background might not agree with you, you can very easily change the color in the HTML to something else. 
This template is a golden oldie. A much-loved format displays banner-style images instead of the usual 4:3 images. It's a little retro and extensively tested – a great option to rely on if you want to use HTML, but are unsure of the extra complexities that come with newer templates.
Time to get writing those emails!
A well-designed, appealing newsletter can do wonders when it comes to building an engaged readership. Combine good content with attention-holding design and your newsletter will definitely leave a positive impression on readers.
Once your audience is hooked, you can even monetize your newsletter with ads. Many writers earn a full time salary just from their newsletter. 
Ready to start making money from your newsletter? Sign up to Paved today.